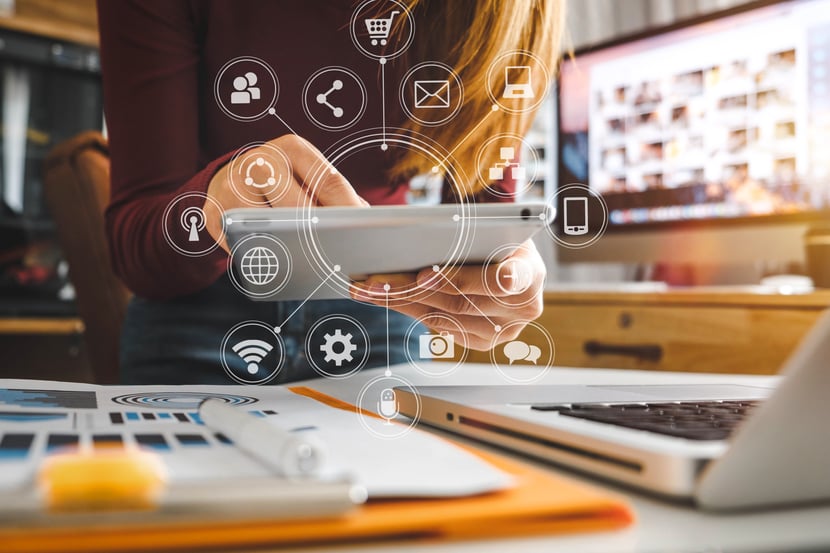 By Jing Wang
Every single marketing technology ecosystem for every organisation is different.
Trying to distil the content in terms of what the product content ecosystem should look like is a tricky task. But there are some great examples that we have seen and we can try to abstract this to bring the best practice of how people, process and technology should come together.
We have illustrated a high-level landscape of Product Content Ecosystem in the diagram below. Before diving in, there are some thoughts we'd like to put forward first:
Building the product content ecosystem all at once is a nearly impossible task. Start with key components, and, as long as you have a clear strategy and a roadmap of how all of the components will eventually come together, you can, and really should, build the ecosystem piece by piece.
Before starting with the technology, you need to look at the context of your organisation, your existing technical capabilities, and map out the people journey and data process to come up with a holistic ecosystem that you can develop.
Now let's walk through each stage throughout the end-to-end process and content ecosystem: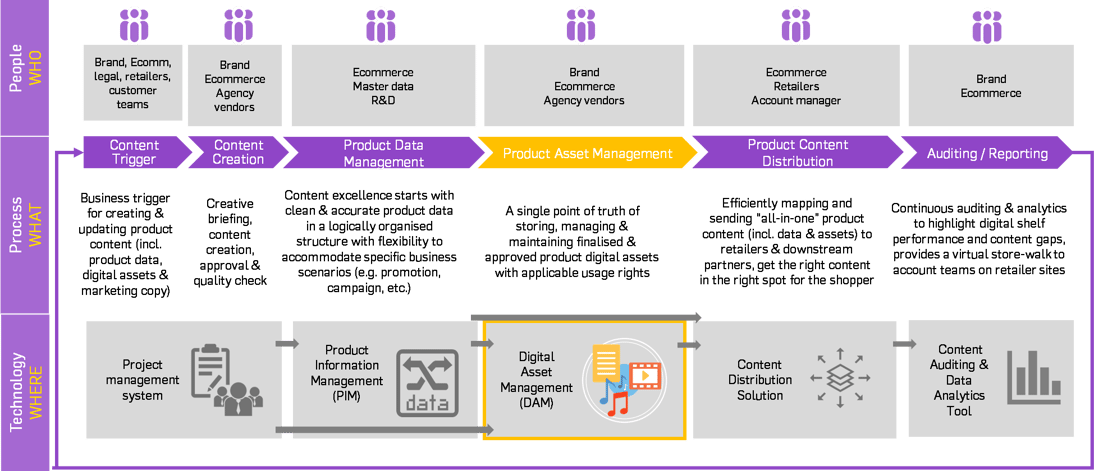 Content Trigger:
The trigger to create new content could be a new product to be launched, or an existing product to be refreshed, or there's a gap of your product content presence online. Typically, the initial requirement is raised by your brand team, Ecommerce team, customer insight teams, account manager on retailer sites, etc.
Content Creation:
Once the content requirement is triggered, there needs to be a clear brief and instruction on what content is to be created. You are working with your internal design team or external agencies for creative briefing. Typically, this is managed in a Project Management System where you can track your campaigns and delivery schedules to make sure the brief is accurately executed and ready for final approval.
Product Data Management:
Going on to the next stage is Product Information Management (PIM) system. PIM is usually integrated with upstream ERP platforms (e.g. SAP) to store and manage your core product information (e.g. GTIN, EAN/barcode, which country the product is created for, etc.). It also receives product technical information (e.g. product weight, size, legal and nutrition information, etc.) from a variety of sources within your organisation. This particular area is the one that you shouldn't speed through as you need to ensure the source of truth is properly orchestrated and governed to identify unique products accurately and consistently in downstream processes and systems.
Product Asset Management:
This is the stage where you have the digital assets that have been briefed, approved and these fly straight from the Project Management System into Digital Asset Management (DAM) or manually uploaded into DAM directly. At some point, you need to link the asset to product data record that comes from PIM. It is crucial and important to make sure the person/team who is linking the asset and product data record knows the information. For example, if your brand team or agency is responsible for asset creation and is asked to upload assets into DAM and link the asset to product data record, make sure they are briefed on what product record to link to. We've seen in many cases that marketing and agency teams simply don't know what product record should be linked to the asset (as they just don't have the information available from the briefing, so it's very difficult for them to create that connection). Essentially, it's not about how to use the tools, but about orchestrating your data across systems and connecting the dots throughout business processes.
PIM and DAM are the two crucial components across the digital ecosystem and different life-cycles you need to manage. PIM manages the lifecycle of your product, whilst DAM is a single point of truth of managing the life-cycle of your digital assets. And those are two different things. Your product might no longer be on shelf, but the digital assets may still be re-usable in different channels (e.g. print, OOH). And the other way around. You have a digital asset with expired usage rights, but the product is still valid and needs to be sold. Building PIM and DAM in parallel is an ideal approach, but if you already have one in place, make sure you adopt the same data orchestration when building the other.
Product Content Distribution:
Come on to the content distribution stage where you send all the combined product content (including marketing copy, product data, digital assets) to online stores or retailer sites. Typically, there are three different "flavours" of content distribution: (1) interim solution via syndicators and aggregators (e.g. BrandBank in UK, Equadis in France, Salsify in US) which effectively means building a global API between your internal ecosystem and third-party platform (the latter directly integrates with local retailers); or establishing a product content portal via (2) "Push" or (3) "Pull" mechanism to distribute content to retailers.
Content Auditing & Reporting:
Finally, going to the content auditing and reporting stage. There are lots of data analytics solutions out there to help you evaluate how complete your digital shelf looks and how your brands are doing compared with your competitors, without going through a manual audit process. Whichever platform you choose, the key point is, that, to make these auditing solutions truly effective, they need to have a single source of truth (i.e. your PIM and DAM) to cross-reference and compare against, then indicate how accurate and compliant your product content is. This then brings the whole process right back to the original stage to act as the "content trigger" to close the content gap.
Closing note:
To reiterate what we said at the beginning, you don't have to build all the solutions all at once. We have clients who have started the ecosystem journey with just DAM, then integrated with PIM, then added analytics solution afterwards. We also work with clients who implemented PIM and DAM solutions together at the same time.
The key point is, what you have built (or are building, or going to build in the future), adds a really essential piece to your wider marketing technology ecosystem - your websites, social media platforms, campaign management tools, mobile apps, etc. Your product data and digital assets are re-usable not just by taking content from other channels for Ecommerce, but the other way around as well (as we illustrate in the diagram below).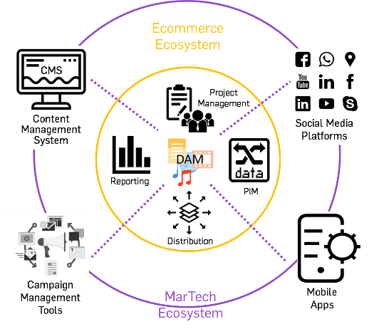 In the next blog (which is the last one of this series), we will give away key watch-outs and top-tips on where to begin with the digital shelf journey for your brand(s).
Click here for part 5.

About the author: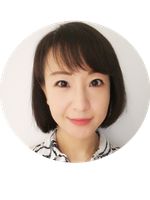 Jing Wang, has 5-year background in DAM business operations, change management & E2E support design.
Her current role is project consultant leading business engagement and consulting for DAM integration programmes, Ecommerce product content & digital shelf ecosystem for FMCG & CPG clients.
Outside of work, Jing can be found in Zumba dance studio and badminton court. She also enjoys spending most of her weekend mornings on Yoga mat.