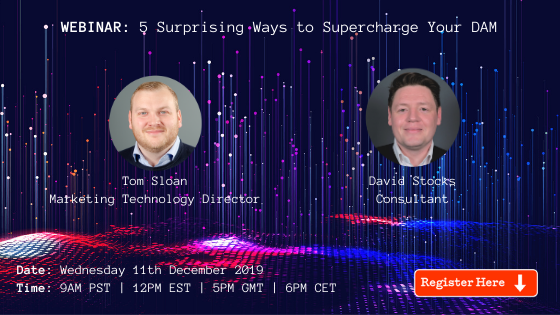 ICP is excited to host another webinar with Henry Stewart Events!
This webinar is about the things that make the difference between DAM success and DAM failure but are not to do with technology or functionality. Effort is usually focused on the choice of vendor, evaluating the features and functionalities that are specific to your business sector. Experience tells us there are more valuable (and often neglected) practices which can set you on the right path.
This webinar will also cover five things which will give yourselves the best chance of long-term success:
Success Criteria & Measurement
Know your people, capabilities & capacities
Understanding your assets and data
Change management is a constant
Reporting, Insight & Continuous improvement
Join our speakers:
Tom Sloan, Marketing Technology Director
David Stocks, Associate Consultant
Date: Wednesday 11th December 2019
Time: 9AM PST | 12PM EST | 5PM GMT | 6PM CET
Register here.