By John Stuart
The arrival of the PC on the Beara Peninsular, the struggles of a picture researcher before Google, and finally, Do Americans know what Artichokes look like?
This musing will not give you any insight into technology, as the series proposes. However, while I was reflecting on my friendship with Indra Sinha described in a previous blog, this memory came back to me.
Indra had decided to take a holiday in Ireland.He was aware that I regularly spent time in Kerry and Cork in the southwest and always came back to the agency with wonderful, if not a little blurred memories. I suggested he should meet close friends of mine who were living on the Beara peninsular in South West Cork. I was sure they would enjoy each other's company. He came back full of memories (possibly hallucinatory) of surreal conversations ranging across many subjects, fuelled by helpful stimulants and I believe gave him food for thought for his book The Cybergypsies.
An Introduction To My Friends
The events I am about to describe exactly demonstrate why I have such fond memories of this enchanted place. My regular visits to the area were to see my young daughter. Through these visits, I got to know and became very close to Tony and Christa, who gave me a roof over my head and a support system. They were the most eccentric couple I have ever met and I thought would be perfect company for Indra.
They had 5 children, a donkey, no electricity, rudimentary plumbing, a phone that worked occasionally and a car that functioned even less than the phone. Tony spent his time on a number of pet projects, but was slightly inhibited by the lack of any means to communicate his views. He felt art had been too commercialised and was keen to promote a year where it was banned entirely. He made his own contribution to this endeavour by taking down all his pictures and locking them away in one of his outbuildings.
Eccentric Problems
Even in those days, he was keen on green and regaled all the locals to support environmental issues. He was particularly keen to promote ethical fishing and strict quotas. The local fishermen were unsupportive. He was vocal regarding his disquiet about the establishment, church, politicians, schooling and the police. He had problems with American foreign policy and EU meddling in Irish agricultural policy, particularly unpasteurised cheese. And he didn't like mussel farming in the Kenmare estuary. I didn't think we was doing a very good job of merging quietly into the local community..
He also had two commercial e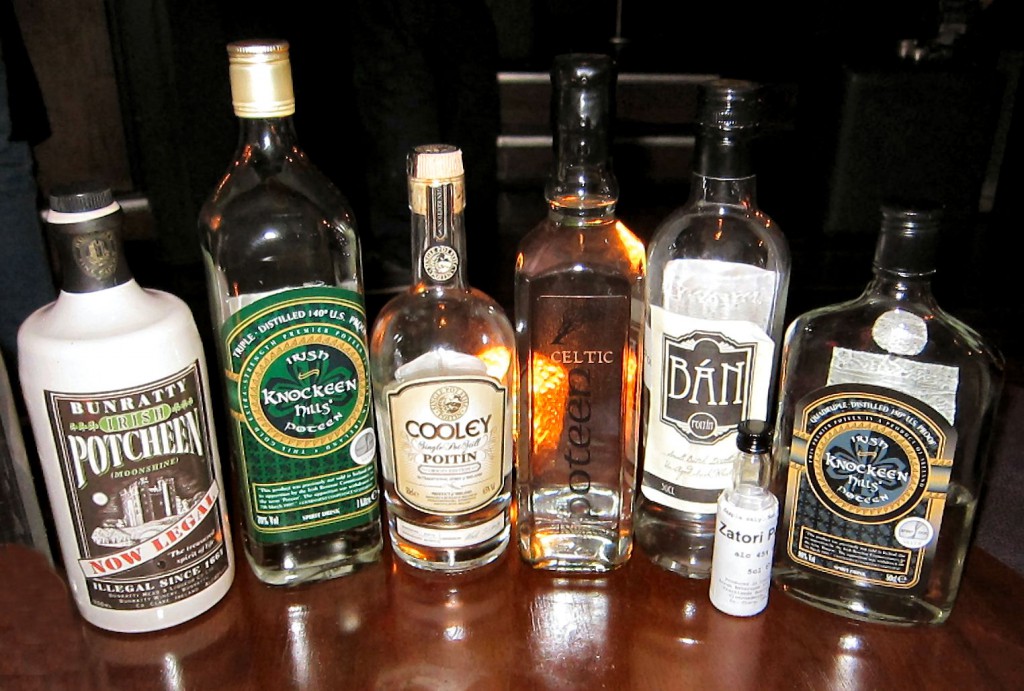 nterprises. He ran astill up in the mountain's and sold his Potcheen (see picture) to the deputy bank manager in Castletown, Berehaven. He also had a greenhouse nestled away on his smallholding, where he grew a crop of plants which helped him relax. He then branched out into another agricultural enterprise. This is where I came in.
---
The discussion went a little this this: "John, I have established a new enterprise; The Allihies Globe Artichoke Co-operative Society and I need your help."
"What's it going to do?"
"Grow and sell artichokes, initially locally and if successful across Europe."
"Who are your partners?"
"I haven't got any."
"How can I help?"
"You're in advertising and I need a campaign."
"Have you got a budget?"
"No, but I like the idea of Gorilla marketing that you mentioned to me."
"Its guerrilla marketing," I said.
"I thought we could put posters up on the telegraph poles around the Beara Peninsular. I think we need to keep it simple. Just say 'Globe Artichokes for Sale', with an arrow pointing left at 200 meters."
Putting together the artwork for his poster when I got back to London was easy, apart from sourcing an image of an artichoke (particularly with no budget) and decades before Google images. I chanced upon the Readers Digest Gardeners Year tome in the agency library, and there it was.
First & Second Version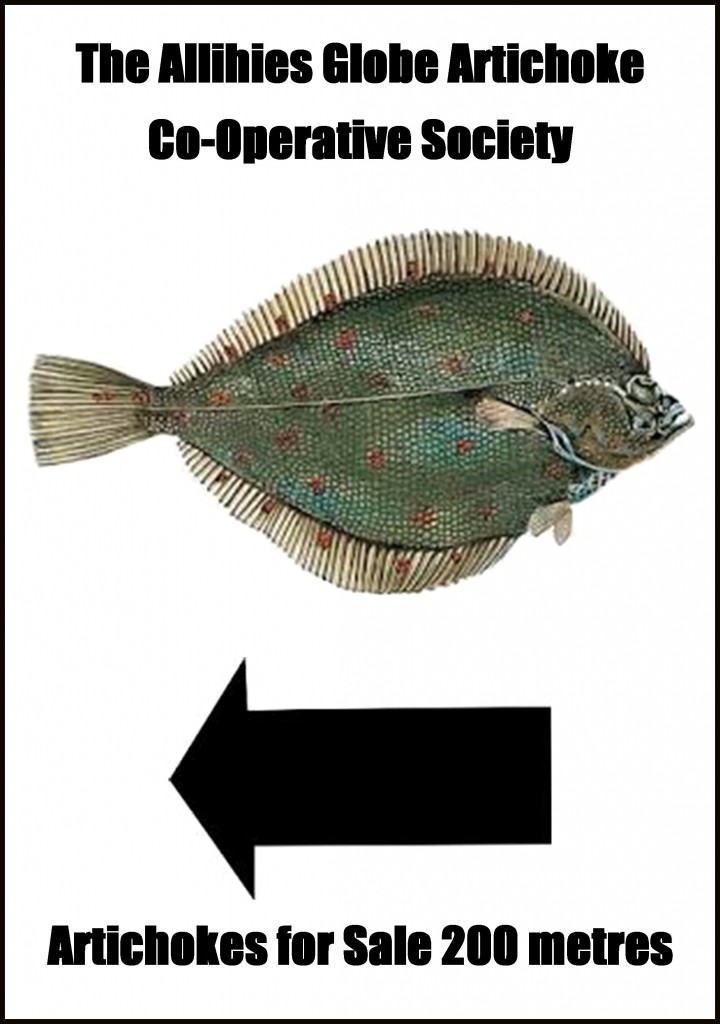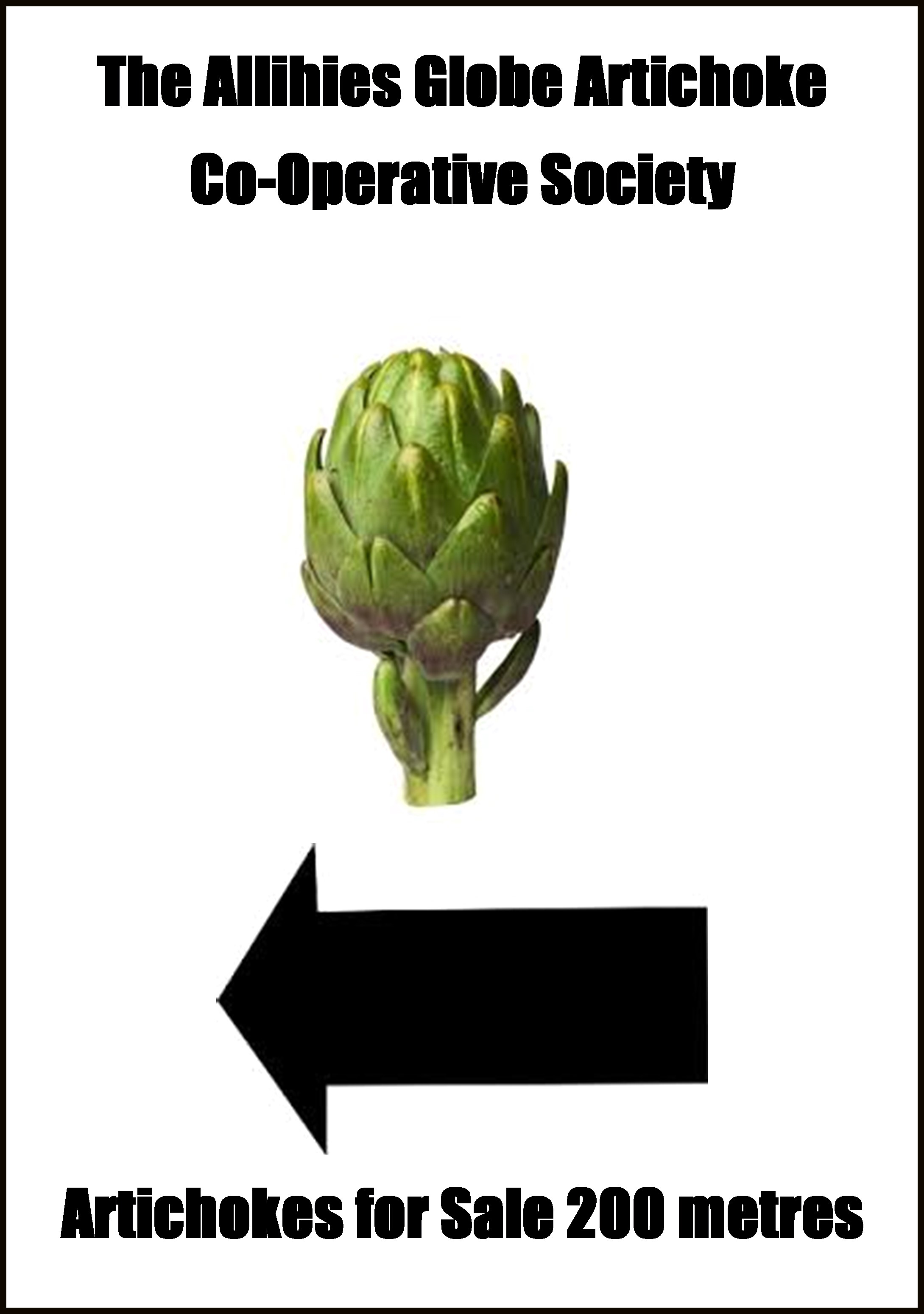 Next to the gardening book was another Readers Digest publication on the fishes of the World. To ring the changes, I introduced another graphic using the same copy, printed 200 of each version and dispatched them to the Beara Peninsular.
On my next visit, we discussed the campaign rollout. The findings were as follows:
Tony posted the first version and added 3 of the second version, all around the peninsula's telegraph poles. Not one artichoke was sold. The crop was consumed by the family.
The alternative version, in today's terminology, went viral, with visitors and the locals discussing at great length in the pubs - over a pint or two of Murphy's - what the strategy behind the imagery was meant to convey. Popular opinion decided it was subliminal advertising.
The remaining 197 copies were stocked by the local arts and crafts shop and they sold out over the summer season. At 20 punts each! The gallery owner said they were mainly purchased by American visitors. After the gallery owners commission, Tony had a nice little windfall. With the proceeds of his art sale, he bought the first PC in private hands on Beara and joined Indra as a cyber gypsy.
So much for the over commercialisation of art. Needless to say, his pictures are back on the wall.