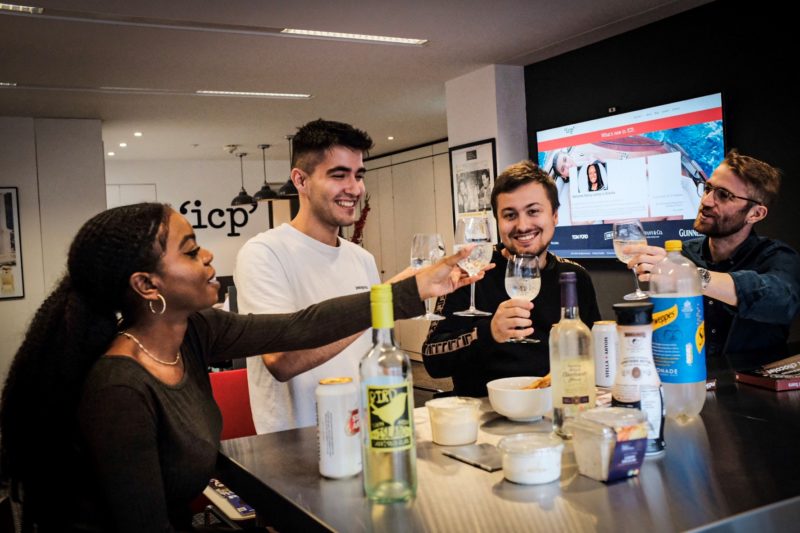 ICP is all about People
Technology can do a lot in our ever-changing world of marketing, but it's what people can do with it that makes the difference. We are proud of all our people in the many different roles they have around the world; proud of the way they contribute to our clients' success, but equally proud how they contribute to ICP's culture and the lively office environments in which we spend our time. We will be adding to ICP's blog with regular contributions with the theme 'A day in the life of ICP' every so often. Check back into our blog or follow us on your social media of choice; LinkedIn, Twitter, Instagram and Facebook.
Despite my insides sweating at the thought of meeting everyone, I took my manager up on his offer to join him and head to ICP's London office at the end of day on my first Friday at the company (I had been working offsite with my team that first week).
When I arrived, I saw lots of people sipping white wine, snapping bread sticks, and smearing some inviting looking hummus onto some inviting looking bread. These are all my favourite things so for a second, I must admit, I did think that this was my surprise "welcome" party. I'm still a little disappointed that the bread sticks weren't purchased exclusively with me in mind, but what made that better was that I soon found out this happy gathering of people was not just a one off. On the last Friday of every month, as well as the excitement of payday, we also have "E.O.M DRINKS" to look forward to. And it's not just for the wine connoisseurs and carb loaders. There are always soft drinks and usually a variety of other tasty bar snacks to choose from.
The nerves of meeting everyone in a new environment had dissipated. Quickly I was settled. Everyone was extremely friendly. Although there was lots of snacking and chatting in the bar area, throughout the office there were people still busy working. Yet even these people – whether they were trying to meet some tight deadline or just get things prepared for the following week - all seemed genuinely happy to meet me and took some time out of their busy workloads to speak with me.
Sufficiently bloated from all the blended chickpeas, Mexican beer, and flattering comments I decided to head home. It was a lovely end to a good week. The first day's nerves will always exist but at ICP they felt like they were worth more. Not just was I welcomed, but after a short amount of time with everybody, I felt a part of ICP.
Luke Hoskisson, Brand Steward, London (Unilever)
Luke has been at ICP for nearly 2 years, working as a Brand Steward for Unilever's DAM platform in the London office after transitioning from being on the Operations team of the Unilever account.
Luke graduated from King's College London in 2017 with a BA in English Language. He enjoys climbing things, writing things, and eating things, all the while doing his best to not confuse which is for what.