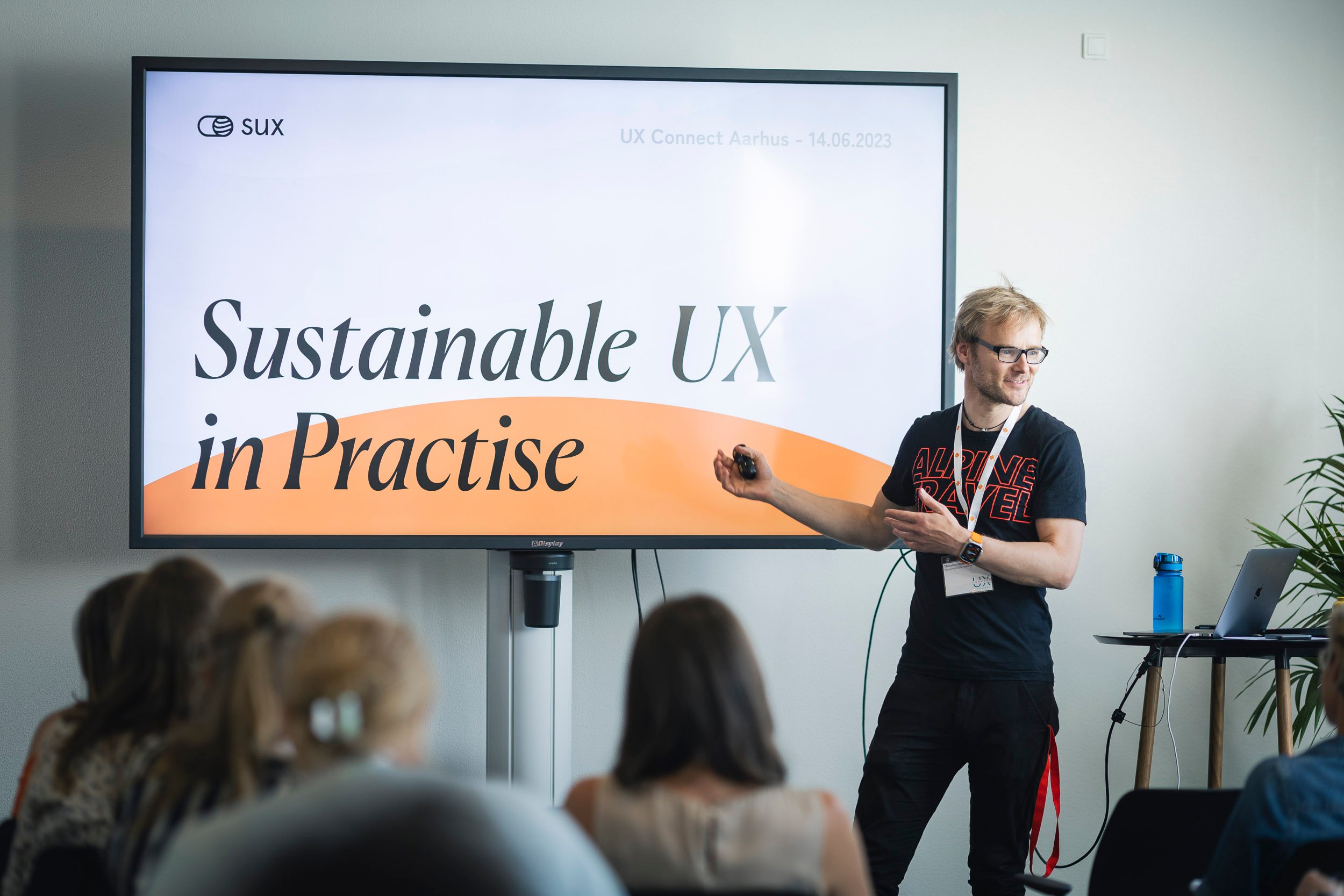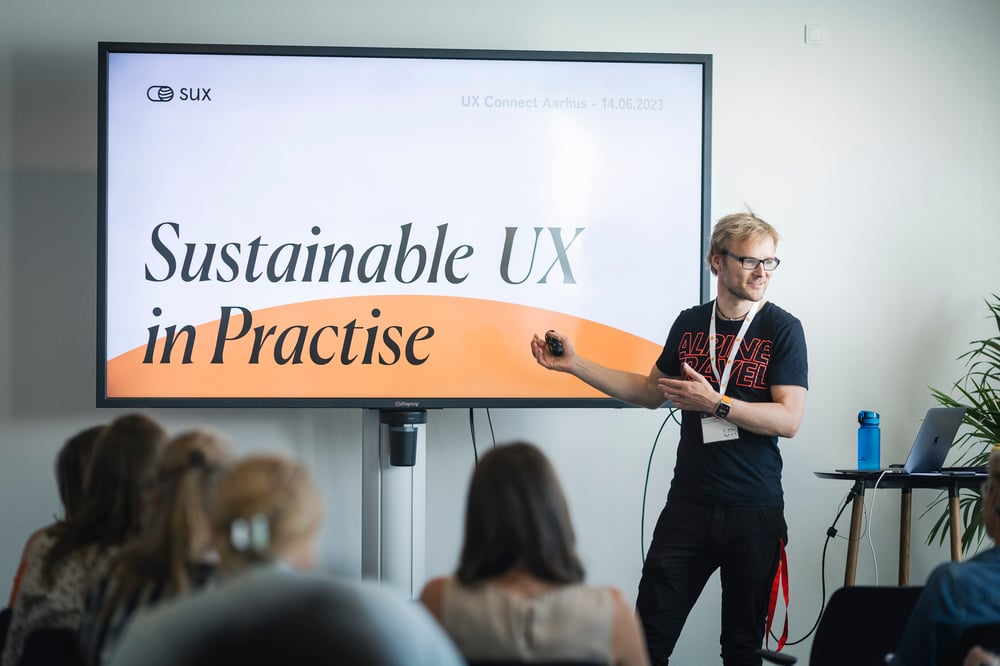 ICP Blog
The effect of user experience on sustainability - a review of UX Connect
The UX Connect event, run by Boye & Co, has just taken place in Aarhus, Denmark. This unique gathering brings together User Experience (UX) professionals for two days of a mix of presentations and workshops. The presentations are meant to impart theory, and the workshops apply that theory to a use case. It's an interesting, fun, intense experience that provokes thought and debate.
Whose job is sustainability
The founder of the Sustainable UX Network (SUX), Thorsten Jonas, set the tone of the conference with the message: yes, sometimes making the choice to take the sustainable path is inconvenient, sometimes hard…and we can't afford to not be part of the solution. There is no "somebody else" to save the world from climate change. We all need to engage, in whatever job we have, in whatever way we can. In some ways, the very nature of UX could be contributing to killing the planet. Removing friction from processes and providing end-consumer convenience makes it easier to buy, to consume, and to waste. So the question for UX professionals becomes: how do we improve the user experience while mitigating unintended consequences that have an impact on sustainability? Kevin Slavin once said: When designers center around the user, where do the needs and desires of the other actors in the system go? (We see this in systems developed for end-user joy but are painful for the corporate user who inputs information every day.) What if we designed for both humanity and sustainability? The underpinning of Environmental, Social, and Governance (ESG) goals provides us with 17 goals that include several aspects of sustainability. The presentation Sustainable UX in Practise contained multiple methods and resources, from personas to a canvas for sustainable business model, and ways to incrementally improve. (For a full list of sessions and downloadable presentations, visit UX Connect's Program page.)
Towards a circular economy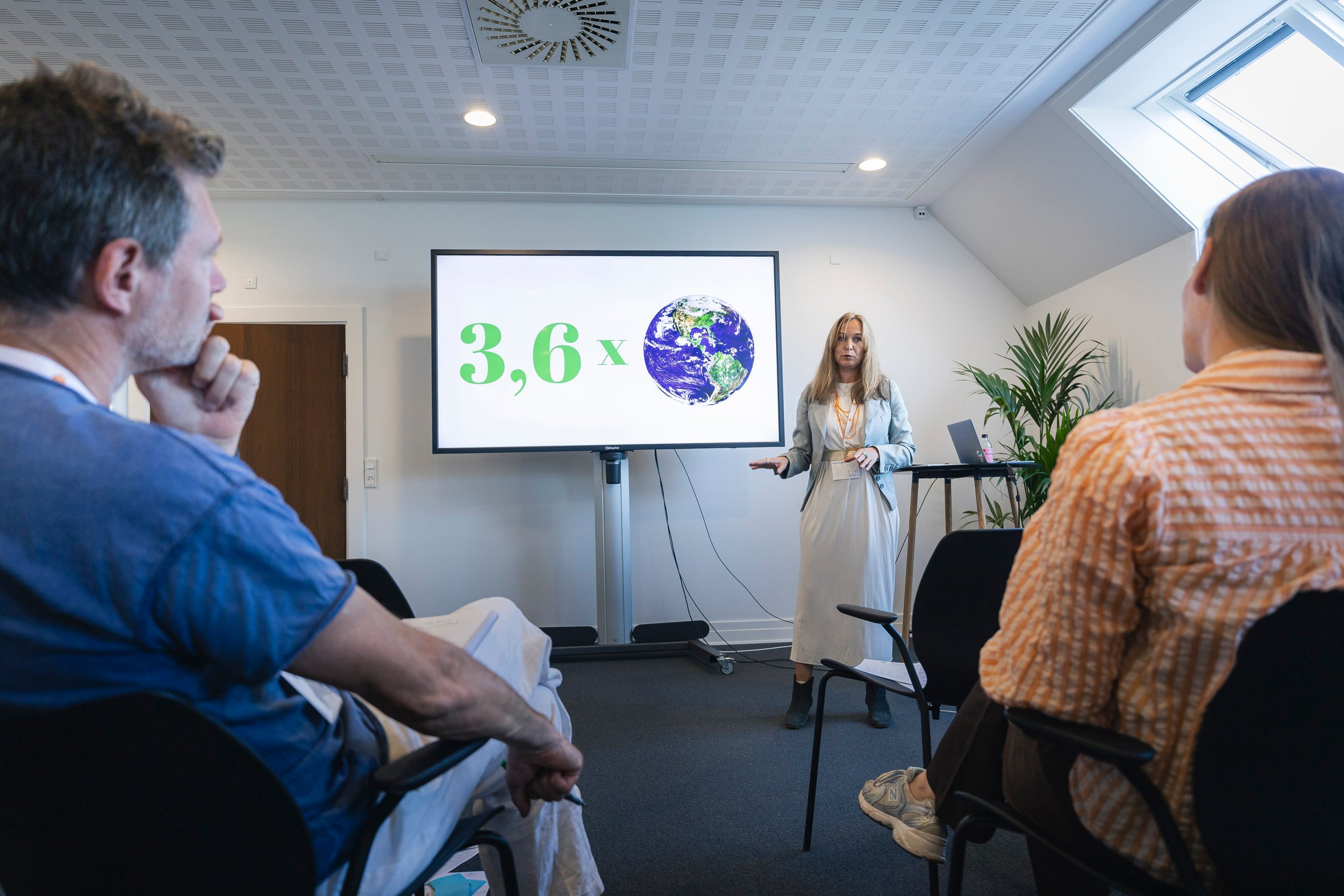 Photo: Roar Paaske
One of the more interesting concepts presented was rethinking the economy as a circular one. The idea is that we must save and keep resources in circulation longer. We should be expanding our definitions to include more: reduce + refuse, redesign, and rethink; reuse + repair, refurbish, and remanufacture; recycle + repurpose and recover. This feeds into the Ellen MacArthur foundation and McKinsey framework for a circular economy. "ReSOLVE" is an acronym for: Regenerate, Share, Optimize, Loop, Virtualize, and Exchange.
One manifestation of a circular economy is a change in the fashion industry, which is the third largest polluting industry, after food and construction. Global textile production has exploded (along with post-production waste), with the use of synthetic materials (the primary reason for ocean microplastics) and water (a tenth of all industrial water use), and returns or discards (often ending up in landfill). A circular economy would encourage companies to find alternate business models, such as renting out clothing on a rotating basis and analysing the use of textiles used for environmental impact. There are already examples of subscription-based clothing, and AI-enabled "try-ons" that allow consumers to be confident about ordering the right-sized clothing they see online.
Sustainability in a large enterprise
At the other end of the spectrum, the shipping giant, Kuehne+Nagel is tackling its sustainability efforts by focusing on operational efficiency. Because their supply chain is complicated, involving moving goods around warehouses and ports and on/off ships and planes, efficiency means savings not only in human energy but also carbon generating activities. A big consideration for them was combining several systems into a single system. They recognised that operational efficiencies within Kuehne+Nagel were only part of the equation; they also needed to ensure that the operational efficiencies included the needs of their customers. That realisation brought a new challenge. It meant combining the experiences of several types of users, from large enterprises down to small businesses. Because of the prominence of the project within the company, Kuehne+Nagel needed to step up its User Research (UxR). In the words of Julie Zhou: "to find ideas, find problems. To find problems, talk to people." Arun Jolly Joseph, a UX Designer in the product development area, discussed the ways that the software development process changed, how user insights were gathered, and how the insights contributed to a cultural change that helped the product team to make informed decisions.
Digital sustainability starts with taking responsibility
Digital sustainability was addressed by Janus Rose from the Danish Ministry of Taxation. Using design systems and a standards library on all digital products is helping reduce carbon emissions. Because the taxation ministry has a high volume of site visits, the calculation is about 21 tons of CO2 saved annually. The ministry decided that they were contributors to climate change, and therefore they were obligated to do their part to reduce carbon emissions. They began with the website and extended their efforts to the entire supply chain so they will know exactly what goes into green IT procurement.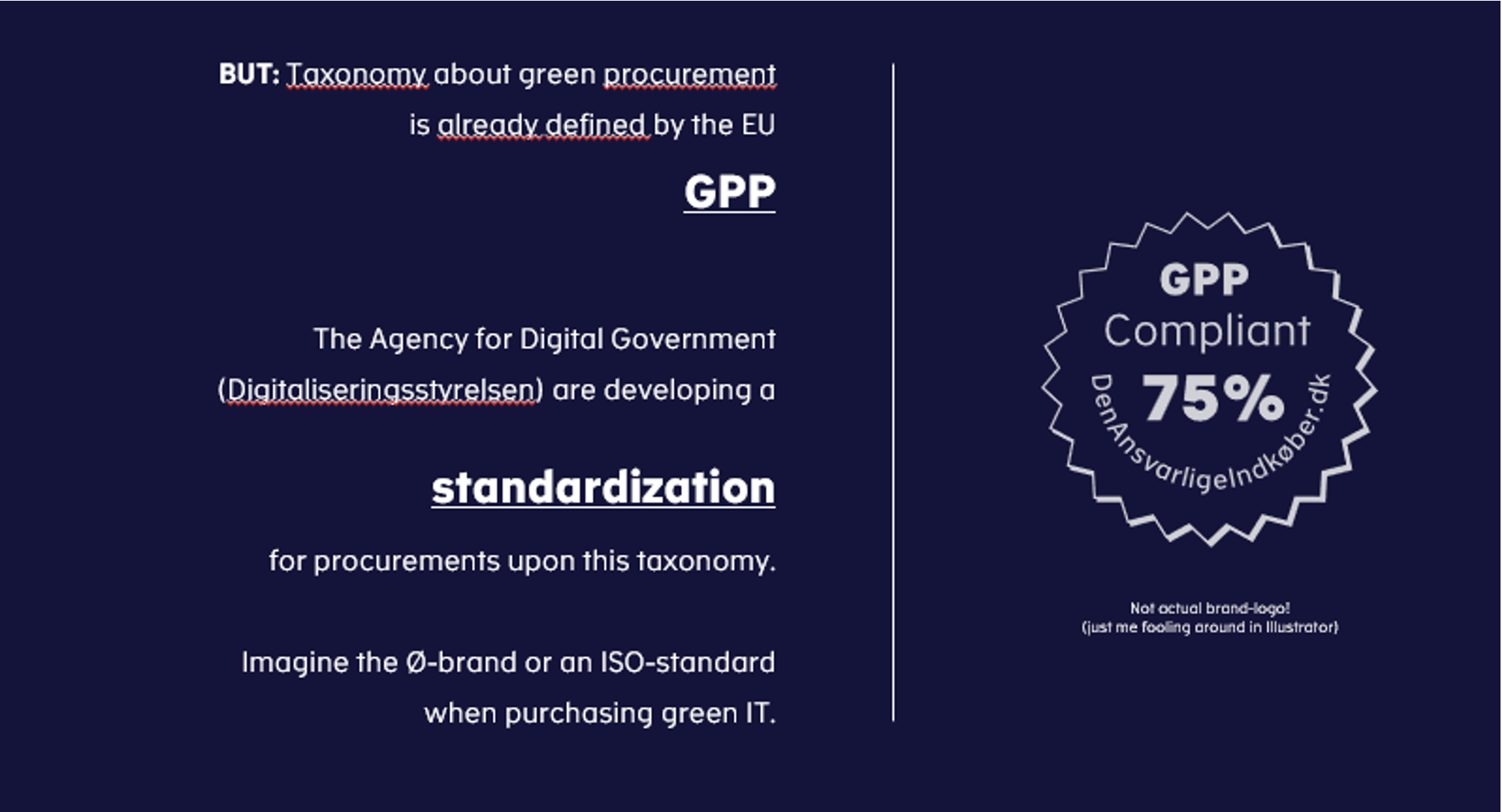 A use case presented by Marina Soriano Porcar, a Senior Digital Product Design at the LEGO Group, proved useful - connecting cultural to UX. Instead of asking "is all this cultural research worth the effort", the question needs to be "what are the consequences of not getting it right". Cultural specificity is not simply a courtesy, but a critical aspect of making a product attractive and desirable in specific contexts. Cultural differences can hobble or even sink a product if the product doesn't take cultural differences into account.
UX methods applied
A review of UX Connect would not be complete without talking about the workshops. On both days, participants learned new methods of UX research. Val Mitchell (Snook, Loughborough University) introduced us to the COM-B framework and had us do journey mapping with the planet in mind. Natalie Barbour (Vertica) introduced us to empathy maps and how to think about unintended consequences. Participants were also challenged to design a sustainable system from a choice of consumer goods areas.
The most profound takeaway is that we cannot look at sustainability as a limited-time project. It is a long-term programme that will never be "done". However, by making sustainability the default setting for our product design, we are creating a mindset that sets our organisations up for success.
UX Connect will be back in 2024. Details will be made available on the Boye & Co website.
Rahel Bailie, Executive Consultant EMEA

Featured image: Roar Paaske