EXECUTIVE SUMMARY
Today's brands have to keep control over ever-growing volumes of content across an increasingly diverse range of channels, as well as keeping in line with compliance and regulatory requirements. Global beverage company Diageo has risen to this challenge by creating SmartBrand, a Digital Asset Management (DAM) system that provides better control and access to finished assets, efficient and transparent workflows, plus clear and consistent rights management.
The system, which supports over 18,600 users worldwide, is based on digital asset management technology provided by North Plains, with support and consulting services from ICP. The SmartBrand Support Team provides: Rights Management Oversight; Change Management; Content Curation; First Line User Support; Agency Training and Consulting Services.
DOWNLOAD FULL CASE STUDY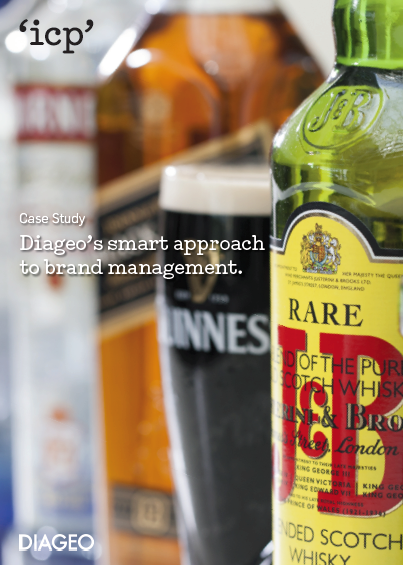 CHALLENGES
Like any large organisation, Diageo faces the complex challenges posed by the multichannel marketing environment it operates in. The sheer volume and diverse use of assets continues to grow exponentially across print, web, social, TV, PR, packaging and video. Keeping track of who is creating and using the assets as well as preventing unnecessary duplication of content or materials, has become a core part of daily business. Diageo also operates in a highly regulated environment and individual countries have their own legislation that has to be adhered to, as well as Diageo's own internal Marketing Code (DMC).
Of critical importance is the need to protect the company's assets against misuse: employees need to have the assurance that when they are handling assets, they are working in line with the Diageo Marketing Code (DMC). There is also a need to ensure that this compliant, protected environment is extended to the multiple third party partners with which Diageo works.
Last but not least, Diageo continually evaluates internal approval processes to ensure review processes can be accelerated, the risk of bottlenecks prevented and clear and auditable information provided.
THE SOLUTION
SmartBrand is a highly-intuitive and comprehensive suite of tools that tracks the entire lifecycle of an asset across: a rights management function that ensures that an asset's rights 'travel' with it regardless of who or where it is downloaded, plus an archive of assets that is designed to be fast and easy to access. The system – which Diageo has progressively evolved since 2002 to the present day – also includes a 'menu-maker' function, which controls the assets needed for the 25,000 drinks menus that Diageo produces in a typical year.
Diageo has also introduced SmartApprove, which features approval workspaces for project owners that allow the relevant stakeholders to review materials simultaneously, eliminating a more conventional step-by-step approval process. This has improved approval timescales while providing clear visibility and auditable information.